[VCB-Studio] Persona4 / 女神异闻录4 10-bit 1080p HEVC BDRip [Original + Golden Fin]
簡介: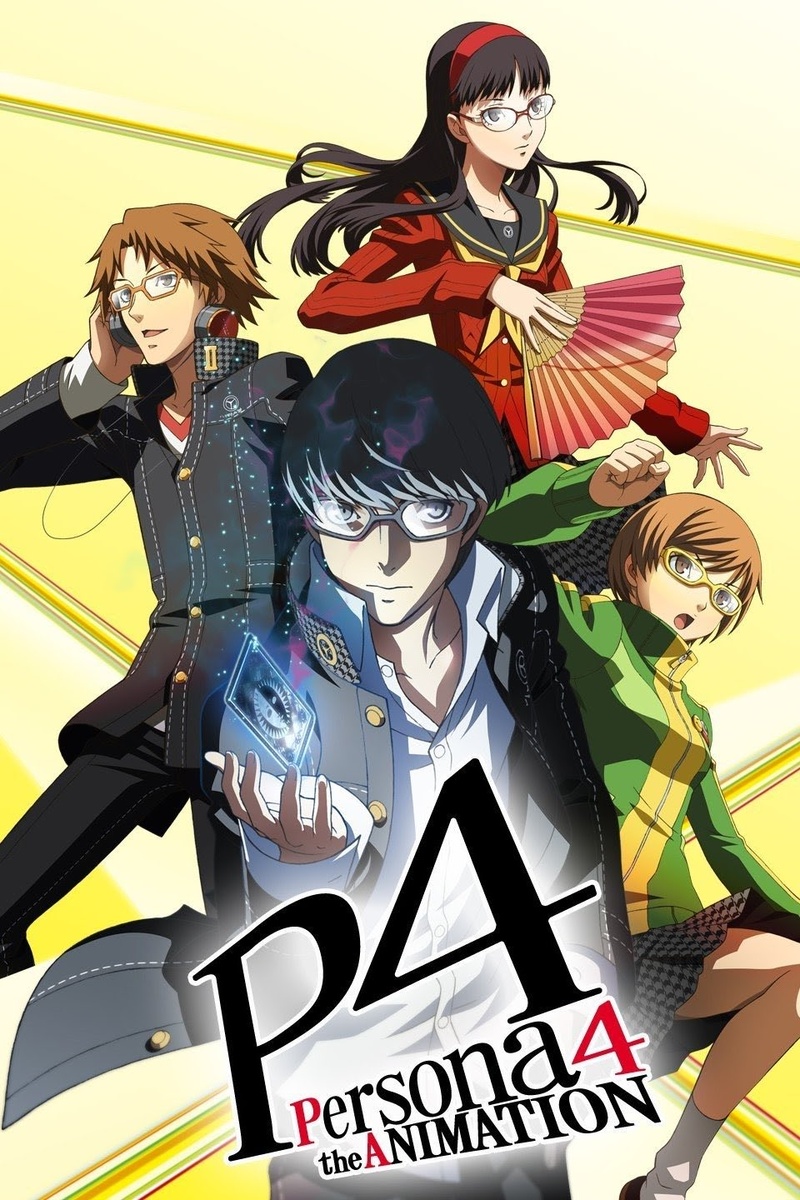 Persona4 BDRip

P4A: Persona4 the ANIMATION / 女神异闻录4
10-bit 1080p HEVC + FLAC + AAC,MKV 格式。每话约 1.2 GB。
内封评论音轨。

P4GA: Persona4 the Golden ANIMATION / 女神异闻录4 黄金版
10-bit 1080p HEVC + FLAC + AAC,MKV 格式。每话约 1.1 GB。
内封评论音轨。

P4A 原盘画质普通,噪点粗且丰富,噪点下有可见的色带,线条有少量锯齿。处理上我们削减了噪点以得到合理的体积,并进行了较强的抗锯齿和去色带处理,配合编码器参数尽量保留噪点。
P4A has a mediocre picture quality. There are a lot of coarse grain and visible banding underneath. The lines are a bit aliased, too. PP reduced some of the noise to control the size of the final files, and applied relative strong anti-aliasing and de-banding. The encoding parameters were chosen to preserve the grain as much as possible.

P4GA 原盘画质较好,噪点较粗,没有明显的色带。处理上我们将画面还原重构,结合轻度的抗锯齿和去色带处理,并进行了自适应降噪。
P4GA's quality is much better, still with coarse grain but much less banding. PP applied descaling and reconstruction, mild anti-aliasing and de-banding, as well as adaptive de-noising.

---
VCB-Studio 不再保证收集作品相关 CD 和扫图资源的声明
VCB-Studio 多年来吸引了诸多观众。大家在认可我们视频编码质量的同时,也赞扬我们齐全的附加发布内容,尤其是相关 CD。
齐全的附加内容是整理组员们努力的成果,这无疑是我们的骄傲。然而,我们必须坦言:整理组已面临长达数年的人力瓶颈,运营愈发维艰。
为了确保 VCB-Studio 今后项目的发布频次,整理组减负势在必行,因此我们决定:不再要求整理组尽可能搜集所有与项目直接相关的、已在线上公开放流/授权分享的 CD 和扫图。
以后发布的项目仍可能包含 CD 或扫图,那或许只是因为负责的整理组员真爱。我们将默认不再附带 CD 和扫图,请理解我们终将无法满足所有期待。
当然,随蓝光一起发行的视频类特典(NCOP/NCED/预告片/访谈等等)仍然会全部制作,一如以往。

VCB-Studio will no longer guarantee to include relevant CDs and scans
VCB-Studio has attracted a sizable audience over the years. Many people seem to like our encodes, while there are also many who appreciate the completeness of our releases, especially CDs.
We are proud of all the hard work of our collation members for that. However, as a matter of fact, we have been shorthanded of collation members for quite a few years - this is not sustainable.
Now we have to unload some collation work to make sure we can still make BDRip releases every once in a while: we will be no longer enforcing the rule to our collation members to collect as many relevant CDs and scans as possible that are shared (publicly or privately) on the Internet.
In the future there might be still CDs and scans included, e.g. it happens to be the favorite show of one of our members, but please do not expect that we will include many CDs and scans (if at all) by default.
Bonus content (NCOPs/NCEDs/PVs/Interviews etc.) that come with the Blu-ray will still be included as always.


---
感谢所有资源提供者 / Thanks to all resource providers:
CD: [email protected]

本资源扫图格式为 WebP,浏览详情请参见 https://vcb-s.com/archives/7949。
Please refer to https://vcb-s.com/archives/7949 if you have trouble viewing WebP images.

有关 TSDM 合购区的详情请参见 https://www.tsdm39.net/forum.php?mod=viewthread&tid=879923。
Please refer to https://www.tsdm39.net/forum.php?mod=viewthread&tid=879923 for more information about jointly purchased music.

基础播放器教程: PotPlayer / MPC-HC / IINA
进阶播放器教程: madVR / PotPlayer+madVR / mpv
中文字幕分享区: Anime字幕论坛(请善用搜索)
项目计划与列表: VCB-Studio 项目列表(每月初更新)


---
Comparison (right click on the image and open it in a new tab to see the full-size one)
Source________________________________________________Encode

P4A

P4GA

會員專用連接: [VCB-Studio] Persona4 / 女神异闻录4 10-bit 1080p HEVC BDRip [Original + Golden Fin]
Magnet連接: magnet:?xt=urn:btih:INNR2VCLA7KDXILGXG3LLXXDFOHD24PK
Magnet連接typeII: magnet:?xt=urn:btih:435b1d544b07d43ba166b9b6b5dee32b8e3d71ea
彈幕播放連接: ddplay:magnet:?xt=urn:btih:INNR2VCLA7KDXILGXG3LLXXDFOHD24PK 播放器官方下載地址
外部搜索連接: 從谷歌搜索資源種子
---
[VCB-Studio] Persona4/[VCB-Studio] Persona4 the ANIMATION [Ma10p_1080p]/CDs/[111123] SPCD 01 (flac)/ANZX-6842.cue 953Bytes
[VCB-Studio] Persona4/[VCB-Studio] Persona4 the ANIMATION [Ma10p_1080p]/CDs/[111123] SPCD 01 (flac)/ANZX-6842.flac 122.8MB
[VCB-Studio] Persona4/[VCB-Studio] Persona4 the ANIMATION [Ma10p_1080p]/CDs/[111221] SPCD 02 (flac)/ANZX-6844.cue 1.6KB
[VCB-Studio] Persona4/[VCB-Studio] Persona4 the ANIMATION [Ma10p_1080p]/CDs/[111221] SPCD 02 (flac)/ANZX-6844.flac 133.7MB
[VCB-Studio] Persona4/[VCB-Studio] Persona4 the ANIMATION [Ma10p_1080p]/CDs/[120125] SPCD 03 (flac)/ANZX-6846.cue 1.1KB
[VCB-Studio] Persona4/[VCB-Studio] Persona4 the ANIMATION [Ma10p_1080p]/CDs/[120125] SPCD 03 (flac)/ANZX-6846.flac 228.2MB
[VCB-Studio] Persona4/[VCB-Studio] Persona4 the ANIMATION [Ma10p_1080p]/CDs/[120222] SPCD 04 (flac)/ANZX-6848.cue 729Bytes
[VCB-Studio] Persona4/[VCB-Studio] Persona4 the ANIMATION [Ma10p_1080p]/CDs/[120222] SPCD 04 (flac)/ANZX-6848.flac 80.8MB
[VCB-Studio] Persona4/[VCB-Studio] Persona4 the ANIMATION [Ma10p_1080p]/CDs/[120321] SPCD 05 (flac)/ANZX-6850.cue 1.6KB
[VCB-Studio] Persona4/[VCB-Studio] Persona4 the ANIMATION [Ma10p_1080p]/CDs/[120321] SPCD 05 (flac)/ANZX-6850.flac 122.1MB
[VCB-Studio] Persona4/[VCB-Studio] Persona4 the ANIMATION [Ma10p_1080p]/CDs/[120425] SPCD 06 (flac)/ANZX-6852.cue 1KB
[VCB-Studio] Persona4/[VCB-Studio] Persona4 the ANIMATION [Ma10p_1080p]/CDs/[120425] SPCD 06 (flac)/ANZX-6852.flac 148.4MB
[VCB-Studio] Persona4/[VCB-Studio] Persona4 the ANIMATION [Ma10p_1080p]/CDs/[120523] SPCD 07 (flac)/ANZX-6854.cue 892Bytes
[VCB-Studio] Persona4/[VCB-Studio] Persona4 the ANIMATION [Ma10p_1080p]/CDs/[120523] SPCD 07 (flac)/ANZX-6854.flac 90.4MB
[VCB-Studio] Persona4/[VCB-Studio] Persona4 the ANIMATION [Ma10p_1080p]/CDs/[120627] SPCD 08 (flac)/ANZX-6856.cue 1.2KB
[VCB-Studio] Persona4/[VCB-Studio] Persona4 the ANIMATION [Ma10p_1080p]/CDs/[120627] SPCD 08 (flac)/ANZX-6856.flac 271.1MB
[VCB-Studio] Persona4/[VCB-Studio] Persona4 the ANIMATION [Ma10p_1080p]/CDs/[120725] SPCD 09 (flac)/ANZX-6858.cue 1.3KB
[VCB-Studio] Persona4/[VCB-Studio] Persona4 the ANIMATION [Ma10p_1080p]/CDs/[120725] SPCD 09 (flac)/ANZX-6858.flac 128.9MB
[VCB-Studio] Persona4/[VCB-Studio] Persona4 the ANIMATION [Ma10p_1080p]/CDs/[181219] オリジナル・サウンドトラック (flac)/01. Pursuing My True Self.flac 9.9MB
[VCB-Studio] Persona4/[VCB-Studio] Persona4 the ANIMATION [Ma10p_1080p]/CDs/[181219] オリジナル・サウンドトラック (flac)/02. 記憶の片隅.flac 5.2MB
[VCB-Studio] Persona4/[VCB-Studio] Persona4 the ANIMATION [Ma10p_1080p]/CDs/[181219] オリジナル・サウンドトラック (flac)/03. Welcome to the limousine.flac 1.3MB
[VCB-Studio] Persona4/[VCB-Studio] Persona4 the ANIMATION [Ma10p_1080p]/CDs/[181219] オリジナル・サウンドトラック (flac)/04. 全ての人の魂の詩.flac 29.5MB
[VCB-Studio] Persona4/[VCB-Studio] Persona4 the ANIMATION [Ma10p_1080p]/CDs/[181219] オリジナル・サウンドトラック (flac)/05. New Days.flac 16.7MB
[VCB-Studio] Persona4/[VCB-Studio] Persona4 the ANIMATION [Ma10p_1080p]/CDs/[181219] オリジナル・サウンドトラック (flac)/06. Signs Of Love.flac 20.9MB
[VCB-Studio] Persona4/[VCB-Studio] Persona4 the ANIMATION [Ma10p_1080p]/CDs/[181219] オリジナル・サウンドトラック (flac)/07. マヨナカテレビ.flac 4.8MB
[VCB-Studio] Persona4/[VCB-Studio] Persona4 the ANIMATION [Ma10p_1080p]/CDs/[181219] オリジナル・サウンドトラック (flac)/08. Your Affection.flac 21.1MB
[VCB-Studio] Persona4/[VCB-Studio] Persona4 the ANIMATION [Ma10p_1080p]/CDs/[181219] オリジナル・サウンドトラック (flac)/09. Like a dream come true.flac 18MB
[VCB-Studio] Persona4/[VCB-Studio] Persona4 the ANIMATION [Ma10p_1080p]/CDs/[181219] オリジナル・サウンドトラック (flac)/10. そこにいるのは誰.flac 8.4MB
[VCB-Studio] Persona4/[VCB-Studio] Persona4 the ANIMATION [Ma10p_1080p]/CDs/[181219] オリジナル・サウンドトラック (flac)/11. Reach Out To The Truth -First Battle-.flac 22.4MB
[VCB-Studio] Persona4/[VCB-Studio] Persona4 the ANIMATION [Ma10p_1080p]/CDs/[181219] オリジナル・サウンドトラック (flac)/12. SMILE.flac 22.2MB
[VCB-Studio] Persona4/[VCB-Studio] Persona4 the ANIMATION [Ma10p_1080p]/CDs/[181219] オリジナル・サウンドトラック (flac)/13. Backside Of The TV.flac 21.1MB
[VCB-Studio] Persona4/[VCB-Studio] Persona4 the ANIMATION [Ma10p_1080p]/CDs/[181219] オリジナル・サウンドトラック (flac)/14. 推理.flac 20.7MB
[VCB-Studio] Persona4/[VCB-Studio] Persona4 the ANIMATION [Ma10p_1080p]/CDs/[181219] オリジナル・サウンドトラック (flac)/15. Castle.flac 16.8MB
[VCB-Studio] Persona4/[VCB-Studio] Persona4 the ANIMATION [Ma10p_1080p]/CDs/[181219] オリジナル・サウンドトラック (flac)/16. 狂気の境界線.flac 14.2MB
[VCB-Studio] Persona4/[VCB-Studio] Persona4 the ANIMATION [Ma10p_1080p]/CDs/[181219] オリジナル・サウンドトラック (flac)/17. I'll Face Myself -Battle-.flac 20.7MB
[VCB-Studio] Persona4/[VCB-Studio] Persona4 the ANIMATION [Ma10p_1080p]/CDs/[181219] オリジナル・サウンドトラック (flac)/18. I'll Face Myself.flac 16MB
[VCB-Studio] Persona4/[VCB-Studio] Persona4 the ANIMATION [Ma10p_1080p]/CDs/[181219] オリジナル・サウンドトラック (flac)/19. muscle blues.flac 8MB
[VCB-Studio] Persona4/[VCB-Studio] Persona4 the ANIMATION [Ma10p_1080p]/CDs/[181219] オリジナル・サウンドトラック (flac)/20. It's SHOW TIME!.flac 5.4MB
[VCB-Studio] Persona4/[VCB-Studio] Persona4 the ANIMATION [Ma10p_1080p]/CDs/[181219] オリジナル・サウンドトラック (flac)/21. 人の夫.flac 10.9MB
[VCB-Studio] Persona4/[VCB-Studio] Persona4 the ANIMATION [Ma10p_1080p]/CDs/[181219] オリジナル・サウンドトラック (flac)/22. ケロリンMAGIC!.flac 7.1MB
[VCB-Studio] Persona4/[VCB-Studio] Persona4 the ANIMATION [Ma10p_1080p]/CDs/[181219] オリジナル・サウンドトラック (flac)/23. Sauna.flac 13.2MB
[VCB-Studio] Persona4/[VCB-Studio] Persona4 the ANIMATION [Ma10p_1080p]/CDs/[181219] オリジナル・サウンドトラック (flac)/24. 覚醒.flac 7.2MB
[VCB-Studio] Persona4/[VCB-Studio] Persona4 the ANIMATION [Ma10p_1080p]/CDs/[181219] オリジナル・サウンドトラック (flac)/25. Reach Out To The Truth.flac 20.7MB
[VCB-Studio] Persona4/[VCB-Studio] Persona4 the ANIMATION [Ma10p_1080p]/CDs/[181219] オリジナル・サウンドトラック (flac)/26. Reach Out To The Truth -Inst version-.flac 11.4MB
[VCB-Studio] Persona4/[VCB-Studio] Persona4 the ANIMATION [Ma10p_1080p]/CDs/[181219] オリジナル・サウンドトラック (flac)/27. specialist.flac 16.5MB
[VCB-Studio] Persona4/[VCB-Studio] Persona4 the ANIMATION [Ma10p_1080p]/CDs/[181219] オリジナル・サウンドトラック (flac)/28. Theater.flac 13.2MB
[VCB-Studio] Persona4/[VCB-Studio] Persona4 the ANIMATION [Ma10p_1080p]/CDs/[181219] オリジナル・サウンドトラック (flac)/29. Heartbeat,Heartbreak.flac 14.9MB
[VCB-Studio] Persona4/[VCB-Studio] Persona4 the ANIMATION [Ma10p_1080p]/CDs/[181219] オリジナル・サウンドトラック (flac)/30. youthful lunch.flac 11MB
[VCB-Studio] Persona4/[VCB-Studio] Persona4 the ANIMATION [Ma10p_1080p]/CDs/[181219] オリジナル・サウンドトラック (flac)/31. Game.flac 15.5MB
[VCB-Studio] Persona4/[VCB-Studio] Persona4 the ANIMATION [Ma10p_1080p]/CDs/[181219] オリジナル・サウンドトラック (flac)/32. ZONE TIME.flac 9.8MB
[VCB-Studio] Persona4/[VCB-Studio] Persona4 the ANIMATION [Ma10p_1080p]/CDs/[181219] オリジナル・サウンドトラック (flac)/33. A New World Fool.flac 31.4MB
[VCB-Studio] Persona4/[VCB-Studio] Persona4 the ANIMATION [Ma10p_1080p]/CDs/[181219] オリジナル・サウンドトラック (flac)/34. 霧.flac 28.2MB
[VCB-Studio] Persona4/[VCB-Studio] Persona4 the ANIMATION [Ma10p_1080p]/CDs/[181219] オリジナル・サウンドトラック (flac)/35. Period.flac 7.1MB
[VCB-Studio] Persona4/[VCB-Studio] Persona4 the ANIMATION [Ma10p_1080p]/CDs/[181219] オリジナル・サウンドトラック (flac)/36. ジュネスのテーマ.flac 10.7MB
[VCB-Studio] Persona4/[VCB-Studio] Persona4 the ANIMATION [Ma10p_1080p]/CDs/[181219] オリジナル・サウンドトラック (flac)/37. 心の力 (P4ver.).flac 12.2MB
[VCB-Studio] Persona4/[VCB-Studio] Persona4 the ANIMATION [Ma10p_1080p]/CDs/[181219] オリジナル・サウンドトラック (flac)/38. The Path is Open (P4ver.).flac 10.9MB
[VCB-Studio] Persona4/[VCB-Studio] Persona4 the ANIMATION [Ma10p_1080p]/CDs/[181219] オリジナル・サウンドトラック (flac)/39. 夢想曲.flac 11MB
[VCB-Studio] Persona4/[VCB-Studio] Persona4 the ANIMATION [Ma10p_1080p]/CDs/[181219] オリジナル・サウンドトラック (flac)/40. How much.flac 8.1MB
[VCB-Studio] Persona4/[VCB-Studio] Persona4 the ANIMATION [Ma10p_1080p]/CDs/[181219] オリジナル・サウンドトラック (flac)/41. Secret Base.flac 16.4MB
[VCB-Studio] Persona4/[VCB-Studio] Persona4 the ANIMATION [Ma10p_1080p]/CDs/[181219] オリジナル・サウンドトラック (flac)/42. Heaven.flac 20MB
[VCB-Studio] Persona4/[VCB-Studio] Persona4 the ANIMATION [Ma10p_1080p]/CDs/[181219] オリジナル・サウンドトラック (flac)/43. Alone.flac 11.4MB
[VCB-Studio] Persona4/[VCB-Studio] Persona4 the ANIMATION [Ma10p_1080p]/CDs/[181219] オリジナル・サウンドトラック (flac)/44. 推理 -another version-.flac 3MB
[VCB-Studio] Persona4/[VCB-Studio] Persona4 the ANIMATION [Ma10p_1080p]/CDs/[181219] オリジナル・サウンドトラック (flac)/45. Long Way.flac 14.9MB
[VCB-Studio] Persona4/[VCB-Studio] Persona4 the ANIMATION [Ma10p_1080p]/CDs/[181219] オリジナル・サウンドトラック (flac)/46. Omen.flac 2.4MB
[VCB-Studio] Persona4/[VCB-Studio] Persona4 the ANIMATION [Ma10p_1080p]/CDs/[181219] オリジナル・サウンドトラック (flac)/47. 回廊.flac 8.5MB
[VCB-Studio] Persona4/[VCB-Studio] Persona4 the ANIMATION [Ma10p_1080p]/CDs/[181219] オリジナル・サウンドトラック (flac)/48. The Almighty.flac 31.7MB
[VCB-Studio] Persona4/[VCB-Studio] Persona4 the ANIMATION [Ma10p_1080p]/CDs/[181219] オリジナル・サウンドトラック (flac)/49. The Genesis.flac 43.5MB
[VCB-Studio] Persona4/[VCB-Studio] Persona4 the ANIMATION [Ma10p_1080p]/CDs/[181219] オリジナル・サウンドトラック (flac)/50. I'll Face Myself -another version-.flac 8.1MB
[VCB-Studio] Persona4/[VCB-Studio] Persona4 the ANIMATION [Ma10p_1080p]/CDs/[181219] オリジナル・サウンドトラック (flac)/51. Never More.flac 45.5MB
[VCB-Studio] Persona4/[VCB-Studio] Persona4 the ANIMATION [Ma10p_1080p]/CDs/[181219] オリジナル・サウンドトラック (flac)/52. Electronica In Velvet Room.flac 33.4MB
[VCB-Studio] Persona4/[VCB-Studio] Persona4 the ANIMATION [Ma10p_1080p]/CDs/[181219] オリジナル・サウンドトラック (flac)/天使动漫自购转载声明.txt 936Bytes
[VCB-Studio] Persona4/[VCB-Studio] Persona4 the ANIMATION [Ma10p_1080p]/SPs/[VCB-Studio] Persona4 the ANIMATION [Blu-ray & DVD Persona Music Live CM01][Ma10p_1080p][x265_aac].mkv 36.2MB
[VCB-Studio] Persona4/[VCB-Studio] Persona4 the ANIMATION [Ma10p_1080p]/SPs/[VCB-Studio] Persona4 the ANIMATION [Blu-ray & DVD Persona Music Live CM02][Ma10p_1080p][x265_aac].mkv 22.1MB
[VCB-Studio] Persona4/[VCB-Studio] Persona4 the ANIMATION [Ma10p_1080p]/SPs/[VCB-Studio] Persona4 the ANIMATION [Blu-ray & DVD Series CM][Ma10p_1080p][x265_flac].mkv 24.4MB
[VCB-Studio] Persona4/[VCB-Studio] Persona4 the ANIMATION [Ma10p_1080p]/SPs/[VCB-Studio] Persona4 the ANIMATION [Blu-ray & DVD Vol.10 CM][Ma10p_1080p][x265_flac].mkv 69.8MB
[VCB-Studio] Persona4/[VCB-Studio] Persona4 the ANIMATION [Ma10p_1080p]/SPs/[VCB-Studio] Persona4 the ANIMATION [CM Collection 01][Ma10p_1080p][x265_flac].mkv 31.6MB
[VCB-Studio] Persona4/[VCB-Studio] Persona4 the ANIMATION [Ma10p_1080p]/SPs/[VCB-Studio] Persona4 the ANIMATION [CM Collection 02][Ma10p_1080p][x265_flac].mkv 141.3MB
[VCB-Studio] Persona4/[VCB-Studio] Persona4 the ANIMATION [Ma10p_1080p]/SPs/[VCB-Studio] Persona4 the ANIMATION [Making of True Story][Ma10p_1080p][x265_aac].mkv 1.0GB
[VCB-Studio] Persona4/[VCB-Studio] Persona4 the ANIMATION [Ma10p_1080p]/SPs/[VCB-Studio] Persona4 the ANIMATION [Menu01_01][Ma10p_1080p][x265].mkv 2.5MB
[VCB-Studio] Persona4/[VCB-Studio] Persona4 the ANIMATION [Ma10p_1080p]/SPs/[VCB-Studio] Persona4 the ANIMATION [Menu01_02][Ma10p_1080p][x265_flac].mkv 21.3MB
[VCB-Studio] Persona4/[VCB-Studio] Persona4 the ANIMATION [Ma10p_1080p]/SPs/[VCB-Studio] Persona4 the ANIMATION [Menu02_01][Ma10p_1080p][x265].mkv 2.5MB
[VCB-Studio] Persona4/[VCB-Studio] Persona4 the ANIMATION [Ma10p_1080p]/SPs/[VCB-Studio] Persona4 the ANIMATION [Menu02_02][Ma10p_1080p][x265_flac].mkv 21.4MB
[VCB-Studio] Persona4/[VCB-Studio] Persona4 the ANIMATION [Ma10p_1080p]/SPs/[VCB-Studio] Persona4 the ANIMATION [Menu03_01][Ma10p_1080p][x265].mkv 2.3MB
[VCB-Studio] Persona4/[VCB-Studio] Persona4 the ANIMATION [Ma10p_1080p]/SPs/[VCB-Studio] Persona4 the ANIMATION [Menu03_02][Ma10p_1080p][x265_flac].mkv 22.3MB
[VCB-Studio] Persona4/[VCB-Studio] Persona4 the ANIMATION [Ma10p_1080p]/SPs/[VCB-Studio] Persona4 the ANIMATION [Menu04_01][Ma10p_1080p][x265].mkv 2.4MB
[VCB-Studio] Persona4/[VCB-Studio] Persona4 the ANIMATION [Ma10p_1080p]/SPs/[VCB-Studio] Persona4 the ANIMATION [Menu04_02][Ma10p_1080p][x265_flac].mkv 24.8MB
[VCB-Studio] Persona4/[VCB-Studio] Persona4 the ANIMATION [Ma10p_1080p]/SPs/[VCB-Studio] Persona4 the ANIMATION [Menu05_01][Ma10p_1080p][x265].mkv 2.3MB
[VCB-Studio] Persona4/[VCB-Studio] Persona4 the ANIMATION [Ma10p_1080p]/SPs/[VCB-Studio] Persona4 the ANIMATION [Menu05_02][Ma10p_1080p][x265_flac].mkv 24.6MB
[VCB-Studio] Persona4/[VCB-Studio] Persona4 the ANIMATION [Ma10p_1080p]/SPs/[VCB-Studio] Persona4 the ANIMATION [Menu06_01][Ma10p_1080p][x265].mkv 2.7MB
[VCB-Studio] Persona4/[VCB-Studio] Persona4 the ANIMATION [Ma10p_1080p]/SPs/[VCB-Studio] Persona4 the ANIMATION [Menu06_02][Ma10p_1080p][x265_flac].mkv 23.9MB
[VCB-Studio] Persona4/[VCB-Studio] Persona4 the ANIMATION [Ma10p_1080p]/SPs/[VCB-Studio] Persona4 the ANIMATION [Menu07_01][Ma10p_1080p][x265].mkv 2MB
[VCB-Studio] Persona4/[VCB-Studio] Persona4 the ANIMATION [Ma10p_1080p]/SPs/[VCB-Studio] Persona4 the ANIMATION [Menu07_02][Ma10p_1080p][x265_flac].mkv 19.8MB
[VCB-Studio] Persona4/[VCB-Studio] Persona4 the ANIMATION [Ma10p_1080p]/SPs/[VCB-Studio] Persona4 the ANIMATION [Menu08_01][Ma10p_1080p][x265].mkv 2.5MB
[VCB-Studio] Persona4/[VCB-Studio] Persona4 the ANIMATION [Ma10p_1080p]/SPs/[VCB-Studio] Persona4 the ANIMATION [Menu08_02][Ma10p_1080p][x265_flac].mkv 20.4MB
[VCB-Studio] Persona4/[VCB-Studio] Persona4 the ANIMATION [Ma10p_1080p]/SPs/[VCB-Studio] Persona4 the ANIMATION [Menu09_01][Ma10p_1080p][x265].mkv 2.1MB
[VCB-Studio] Persona4/[VCB-Studio] Persona4 the ANIMATION [Ma10p_1080p]/SPs/[VCB-Studio] Persona4 the ANIMATION [Menu09_02][Ma10p_1080p][x265_flac].mkv 87.5MB
[VCB-Studio] Persona4/[VCB-Studio] Persona4 the ANIMATION [Ma10p_1080p]/SPs/[VCB-Studio] Persona4 the ANIMATION [Menu10_01][Ma10p_1080p][x265].mkv 2.5MB
[VCB-Studio] Persona4/[VCB-Studio] Persona4 the ANIMATION [Ma10p_1080p]/SPs/[VCB-Studio] Persona4 the ANIMATION [Menu10_02][Ma10p_1080p][x265_flac].mkv 24.4MB
[VCB-Studio] Persona4/[VCB-Studio] Persona4 the ANIMATION [Ma10p_1080p]/SPs/[VCB-Studio] Persona4 the ANIMATION [NCED01 Arcana Full Ver.][Ma10p_1080p][x265_flac].mkv 60.3MB
[VCB-Studio] Persona4/[VCB-Studio] Persona4 the ANIMATION [Ma10p_1080p]/SPs/[VCB-Studio] Persona4 the ANIMATION [NCED01][Ma10p_1080p][x265_flac].mkv 56.1MB
[VCB-Studio] Persona4/[VCB-Studio] Persona4 the ANIMATION [Ma10p_1080p]/SPs/[VCB-Studio] Persona4 the ANIMATION [NCED_EP13][Ma10p_1080p][x265_flac].mkv 52.5MB
[VCB-Studio] Persona4/[VCB-Studio] Persona4 the ANIMATION [Ma10p_1080p]/SPs/[VCB-Studio] Persona4 the ANIMATION [NCED_EP14][Ma10p_1080p][x265_flac].mkv 67.7MB
[VCB-Studio] Persona4/[VCB-Studio] Persona4 the ANIMATION [Ma10p_1080p]/SPs/[VCB-Studio] Persona4 the ANIMATION [NCED_EP18][Ma10p_1080p][x265_flac].mkv 236.5MB
[VCB-Studio] Persona4/[VCB-Studio] Persona4 the ANIMATION [Ma10p_1080p]/SPs/[VCB-Studio] Persona4 the ANIMATION [NCED_EP22][Ma10p_1080p][x265_flac].mkv 54.8MB
[VCB-Studio] Persona4/[VCB-Studio] Persona4 the ANIMATION [Ma10p_1080p]/SPs/[VCB-Studio] Persona4 the ANIMATION [NCED_EP25][Ma10p_1080p][x265_flac].mkv 124.7MB
[VCB-Studio] Persona4/[VCB-Studio] Persona4 the ANIMATION [Ma10p_1080p]/SPs/[VCB-Studio] Persona4 the ANIMATION [NCOP01][Ma10p_1080p][x265_flac].mkv 149.5MB
[VCB-Studio] Persona4/[VCB-Studio] Persona4 the ANIMATION [Ma10p_1080p]/SPs/[VCB-Studio] Persona4 the ANIMATION [NCOP02][Ma10p_1080p][x265_flac].mkv 152.2MB
[VCB-Studio] Persona4/[VCB-Studio] Persona4 the ANIMATION [Ma10p_1080p]/SPs/[VCB-Studio] Persona4 the ANIMATION [NCOP_EP15][Ma10p_1080p][x265_flac].mkv 79.4MB
[VCB-Studio] Persona4/[VCB-Studio] Persona4 the ANIMATION [Ma10p_1080p]/SPs/[VCB-Studio] Persona4 the ANIMATION [Ninja Experiment Animation 01][Ma10p_1080p][x265_flac].mkv 30.4MB
[VCB-Studio] Persona4/[VCB-Studio] Persona4 the ANIMATION [Ma10p_1080p]/SPs/[VCB-Studio] Persona4 the ANIMATION [Ninja Experiment Animation 02][Ma10p_1080p][x265_flac].mkv 51.7MB
[VCB-Studio] Persona4/[VCB-Studio] Persona4 the ANIMATION [Ma10p_1080p]/SPs/[VCB-Studio] Persona4 the ANIMATION [Ninja Experiment Animation 03][Ma10p_1080p][x265_flac].mkv 44.9MB
[VCB-Studio] Persona4/[VCB-Studio] Persona4 the ANIMATION [Ma10p_1080p]/SPs/[VCB-Studio] Persona4 the ANIMATION [Ninja Experiment Animation 04][Ma10p_1080p][x265_flac].mkv 30.9MB
[VCB-Studio] Persona4/[VCB-Studio] Persona4 the ANIMATION [Ma10p_1080p]/SPs/[VCB-Studio] Persona4 the ANIMATION [Ninja Experiment Animation 05][Ma10p_1080p][x265_flac].mkv 85MB
[VCB-Studio] Persona4/[VCB-Studio] Persona4 the ANIMATION [Ma10p_1080p]/SPs/[VCB-Studio] Persona4 the ANIMATION [Preview01][Ma10p_1080p][x265_flac].mkv 28.2MB
[VCB-Studio] Persona4/[VCB-Studio] Persona4 the ANIMATION [Ma10p_1080p]/SPs/[VCB-Studio] Persona4 the ANIMATION [PV01][Ma10p_1080p][x265_flac].mkv 89.5MB
[VCB-Studio] Persona4/[VCB-Studio] Persona4 the ANIMATION [Ma10p_1080p]/SPs/[VCB-Studio] Persona4 the ANIMATION [PV02][Ma10p_1080p][x265_flac].mkv 95MB
[VCB-Studio] Persona4/[VCB-Studio] Persona4 the ANIMATION [Ma10p_1080p]/SPs/[VCB-Studio] Persona4 the ANIMATION [PV03][Ma10p_1080p][x265_flac].mkv 140.9MB
[VCB-Studio] Persona4/[VCB-Studio] Persona4 the ANIMATION [Ma10p_1080p]/SPs/[VCB-Studio] Persona4 the ANIMATION [PV04][Ma10p_1080p][x265_flac].mkv 124.3MB
[VCB-Studio] Persona4/[VCB-Studio] Persona4 the ANIMATION [Ma10p_1080p]/SPs/[VCB-Studio] Persona4 the ANIMATION [PV05][Ma10p_1080p][x265_flac].mkv 222.6MB
[VCB-Studio] Persona4/[VCB-Studio] Persona4 the ANIMATION [Ma10p_1080p]/SPs/[VCB-Studio] Persona4 the ANIMATION [PV06][Ma10p_1080p][x265_flac].mkv 130.8MB
[VCB-Studio] Persona4/[VCB-Studio] Persona4 the ANIMATION [Ma10p_1080p]/SPs/[VCB-Studio] Persona4 the ANIMATION [PV07][Ma10p_1080p][x265_flac].mkv 262.5MB
[VCB-Studio] Persona4/[VCB-Studio] Persona4 the ANIMATION [Ma10p_1080p]/SPs/[VCB-Studio] Persona4 the ANIMATION [Short Animation][Ma10p_1080p][x265_flac].mkv 30.5MB
[VCB-Studio] Persona4/[VCB-Studio] Persona4 the ANIMATION [Ma10p_1080p]/[VCB-Studio] Persona4 the ANIMATION [01(Director's Cut Ver.)][Ma10p_1080p][x265_flac_aac].mkv 1.4GB
[VCB-Studio] Persona4/[VCB-Studio] Persona4 the ANIMATION [Ma10p_1080p]/[VCB-Studio] Persona4 the ANIMATION [01(On Air Ver.)][Ma10p_1080p][x265_flac].mkv 1.2GB
[VCB-Studio] Persona4/[VCB-Studio] Persona4 the ANIMATION [Ma10p_1080p]/[VCB-Studio] Persona4 the ANIMATION [02][Ma10p_1080p][x265_flac_aac].mkv 1.4GB
[VCB-Studio] Persona4/[VCB-Studio] Persona4 the ANIMATION [Ma10p_1080p]/[VCB-Studio] Persona4 the ANIMATION [03][Ma10p_1080p][x265_flac_aac].mkv 1.4GB
[VCB-Studio] Persona4/[VCB-Studio] Persona4 the ANIMATION [Ma10p_1080p]/[VCB-Studio] Persona4 the ANIMATION [04][Ma10p_1080p][x265_flac_aac].mkv 1.5GB
[VCB-Studio] Persona4/[VCB-Studio] Persona4 the ANIMATION [Ma10p_1080p]/[VCB-Studio] Persona4 the ANIMATION [05][Ma10p_1080p][x265_flac_aac].mkv 1.2GB
[VCB-Studio] Persona4/[VCB-Studio] Persona4 the ANIMATION [Ma10p_1080p]/[VCB-Studio] Persona4 the ANIMATION [06][Ma10p_1080p][x265_flac_aac].mkv 1.2GB
[VCB-Studio] Persona4/[VCB-Studio] Persona4 the ANIMATION [Ma10p_1080p]/[VCB-Studio] Persona4 the ANIMATION [07][Ma10p_1080p][x265_flac_aac].mkv 1.4GB
[VCB-Studio] Persona4/[VCB-Studio] Persona4 the ANIMATION [Ma10p_1080p]/[VCB-Studio] Persona4 the ANIMATION [08][Ma10p_1080p][x265_flac_aac].mkv 1.3GB
[VCB-Studio] Persona4/[VCB-Studio] Persona4 the ANIMATION [Ma10p_1080p]/[VCB-Studio] Persona4 the ANIMATION [09][Ma10p_1080p][x265_flac_aac].mkv 1.1GB
[VCB-Studio] Persona4/[VCB-Studio] Persona4 the ANIMATION [Ma10p_1080p]/[VCB-Studio] Persona4 the ANIMATION [10][Ma10p_1080p][x265_flac_aac].mkv 1.6GB
[VCB-Studio] Persona4/[VCB-Studio] Persona4 the ANIMATION [Ma10p_1080p]/[VCB-Studio] Persona4 the ANIMATION [11][Ma10p_1080p][x265_flac_aac].mkv 1.2GB
[VCB-Studio] Persona4/[VCB-Studio] Persona4 the ANIMATION [Ma10p_1080p]/[VCB-Studio] Persona4 the ANIMATION [12][Ma10p_1080p][x265_flac_aac].mkv 1.4GB
[VCB-Studio] Persona4/[VCB-Studio] Persona4 the ANIMATION [Ma10p_1080p]/[VCB-Studio] Persona4 the ANIMATION [13][Ma10p_1080p][x265_flac_aac].mkv 1.3GB
[VCB-Studio] Persona4/[VCB-Studio] Persona4 the ANIMATION [Ma10p_1080p]/[VCB-Studio] Persona4 the ANIMATION [14][Ma10p_1080p][x265_flac_aac].mkv 1.2GB
[VCB-Studio] Persona4/[VCB-Studio] Persona4 the ANIMATION [Ma10p_1080p]/[VCB-Studio] Persona4 the ANIMATION [15][Ma10p_1080p][x265_flac_aac].mkv 1.3GB
[VCB-Studio] Persona4/[VCB-Studio] Persona4 the ANIMATION [Ma10p_1080p]/[VCB-Studio] Persona4 the ANIMATION [16][Ma10p_1080p][x265_flac_aac].mkv 1.2GB
[VCB-Studio] Persona4/[VCB-Studio] Persona4 the ANIMATION [Ma10p_1080p]/[VCB-Studio] Persona4 the ANIMATION [17][Ma10p_1080p][x265_flac_aac].mkv 1.3GB
[VCB-Studio] Persona4/[VCB-Studio] Persona4 the ANIMATION [Ma10p_1080p]/[VCB-Studio] Persona4 the ANIMATION [18][Ma10p_1080p][x265_flac_aac].mkv 1.2GB
[VCB-Studio] Persona4/[VCB-Studio] Persona4 the ANIMATION [Ma10p_1080p]/[VCB-Studio] Persona4 the ANIMATION [19][Ma10p_1080p][x265_flac_aac].mkv 1.3GB
[VCB-Studio] Persona4/[VCB-Studio] Persona4 the ANIMATION [Ma10p_1080p]/[VCB-Studio] Persona4 the ANIMATION [20][Ma10p_1080p][x265_flac_aac].mkv 1.2GB
[VCB-Studio] Persona4/[VCB-Studio] Persona4 the ANIMATION [Ma10p_1080p]/[VCB-Studio] Persona4 the ANIMATION [21][Ma10p_1080p][x265_flac_aac].mkv 1.1GB
[VCB-Studio] Persona4/[VCB-Studio] Persona4 the ANIMATION [Ma10p_1080p]/[VCB-Studio] Persona4 the ANIMATION [22][Ma10p_1080p][x265_flac_aac].mkv 1.3GB
[VCB-Studio] Persona4/[VCB-Studio] Persona4 the ANIMATION [Ma10p_1080p]/[VCB-Studio] Persona4 the ANIMATION [23][Ma10p_1080p][x265_flac_aac].mkv 1.2GB
[VCB-Studio] Persona4/[VCB-Studio] Persona4 the ANIMATION [Ma10p_1080p]/[VCB-Studio] Persona4 the ANIMATION [24][Ma10p_1080p][x265_flac_aac].mkv 1.5GB
[VCB-Studio] Persona4/[VCB-Studio] Persona4 the ANIMATION [Ma10p_1080p]/[VCB-Studio] Persona4 the ANIMATION [25][Ma10p_1080p][x265_flac_aac].mkv 1.5GB
[VCB-Studio] Persona4/[VCB-Studio] Persona4 the ANIMATION [Ma10p_1080p]/[VCB-Studio] Persona4 the ANIMATION [True End Episode][Ma10p_1080p][x265_flac_aac].mkv 1.8GB
[VCB-Studio] Persona4/[VCB-Studio] Persona4 the Golden ANIMATION [Ma10p_1080p]/CDs/[140910] SPCD 01 (flac)/ANZX-11382.cue 803Bytes
[VCB-Studio] Persona4/[VCB-Studio] Persona4 the Golden ANIMATION [Ma10p_1080p]/CDs/[140910] SPCD 01 (flac)/ANZX-11382.flac 127.2MB
[VCB-Studio] Persona4/[VCB-Studio] Persona4 the Golden ANIMATION [Ma10p_1080p]/CDs/[140910] SPCD 01 (flac)/ANZX-11382.log 5.9KB
[VCB-Studio] Persona4/[VCB-Studio] Persona4 the Golden ANIMATION [Ma10p_1080p]/CDs/[140910] SPCD 01 (flac)/SBCV-80196.cue 803Bytes
[VCB-Studio] Persona4/[VCB-Studio] Persona4 the Golden ANIMATION [Ma10p_1080p]/CDs/[140910] SPCD 01 (flac)/SBCV-80196.flac 132.4MB
[VCB-Studio] Persona4/[VCB-Studio] Persona4 the Golden ANIMATION [Ma10p_1080p]/CDs/[140910] SPCD 01 (flac)/SBCV-80196.log 1.9KB
[VCB-Studio] Persona4/[VCB-Studio] Persona4 the Golden ANIMATION [Ma10p_1080p]/CDs/[141008] SPCD 02 (flac)/ANZX-11384.cue 1019Bytes
[VCB-Studio] Persona4/[VCB-Studio] Persona4 the Golden ANIMATION [Ma10p_1080p]/CDs/[141008] SPCD 02 (flac)/ANZX-11384.flac 185.2MB
[VCB-Studio] Persona4/[VCB-Studio] Persona4 the Golden ANIMATION [Ma10p_1080p]/CDs/[141008] SPCD 02 (flac)/ANZX-11384.log 10.3KB
[VCB-Studio] Persona4/[VCB-Studio] Persona4 the Golden ANIMATION [Ma10p_1080p]/CDs/[141112] SPCD 03 (flac)/ANZX-11386.cue 1.7KB
[VCB-Studio] Persona4/[VCB-Studio] Persona4 the Golden ANIMATION [Ma10p_1080p]/CDs/[141112] SPCD 03 (flac)/ANZX-11386.flac 188MB
[VCB-Studio] Persona4/[VCB-Studio] Persona4 the Golden ANIMATION [Ma10p_1080p]/CDs/[141112] SPCD 03 (flac)/ANZX-11386.log 4KB
[VCB-Studio] Persona4/[VCB-Studio] Persona4 the Golden ANIMATION [Ma10p_1080p]/CDs/[141210] SPCD 04 (flac)/ANZX-11388.cue 1.1KB
[VCB-Studio] Persona4/[VCB-Studio] Persona4 the Golden ANIMATION [Ma10p_1080p]/CDs/[141210] SPCD 04 (flac)/ANZX-11388.flac 143.8MB
[VCB-Studio] Persona4/[VCB-Studio] Persona4 the Golden ANIMATION [Ma10p_1080p]/CDs/[141210] SPCD 04 (flac)/ANZX-11388.log 3.6KB
[VCB-Studio] Persona4/[VCB-Studio] Persona4 the Golden ANIMATION [Ma10p_1080p]/CDs/[150114] SPCD 05 (flac)/ANZX-11390.cue 2.2KB
[VCB-Studio] Persona4/[VCB-Studio] Persona4 the Golden ANIMATION [Ma10p_1080p]/CDs/[150114] SPCD 05 (flac)/ANZX-11390.flac 219.2MB
[VCB-Studio] Persona4/[VCB-Studio] Persona4 the Golden ANIMATION [Ma10p_1080p]/CDs/[150114] SPCD 05 (flac)/ANZX-11390.log 4.5KB
[VCB-Studio] Persona4/[VCB-Studio] Persona4 the Golden ANIMATION [Ma10p_1080p]/CDs/[150211] SPCD 06 (flac)/ANZX-11392.cue 481Bytes
[VCB-Studio] Persona4/[VCB-Studio] Persona4 the Golden ANIMATION [Ma10p_1080p]/CDs/[150211] SPCD 06 (flac)/ANZX-11392.flac 265.2MB
[VCB-Studio] Persona4/[VCB-Studio] Persona4 the Golden ANIMATION [Ma10p_1080p]/CDs/[150211] SPCD 06 (flac)/ANZX-11392.log 8.3KB
[VCB-Studio] Persona4/[VCB-Studio] Persona4 the Golden ANIMATION [Ma10p_1080p]/CDs/[181219] オリジナル・サウンドトラック (flac)/01. Shadow World.flac 31.8MB
[VCB-Studio] Persona4/[VCB-Studio] Persona4 the Golden ANIMATION [Ma10p_1080p]/CDs/[181219] オリジナル・サウンドトラック (flac)/02. Time To Make History.flac 18.6MB
[VCB-Studio] Persona4/[VCB-Studio] Persona4 the Golden ANIMATION [Ma10p_1080p]/CDs/[181219] オリジナル・サウンドトラック (flac)/03. 海へ行こーぜ.flac 19.5MB
[VCB-Studio] Persona4/[VCB-Studio] Persona4 the Golden ANIMATION [Ma10p_1080p]/CDs/[181219] オリジナル・サウンドトラック (flac)/04. Everyday Sunshine.flac 22.8MB
[VCB-Studio] Persona4/[VCB-Studio] Persona4 the Golden ANIMATION [Ma10p_1080p]/CDs/[181219] オリジナル・サウンドトラック (flac)/05. True Story.flac 24.4MB
[VCB-Studio] Persona4/[VCB-Studio] Persona4 the Golden ANIMATION [Ma10p_1080p]/CDs/[181219] オリジナル・サウンドトラック (flac)/06. マヨナカ横断ミラクルクイズ.flac 13.4MB
[VCB-Studio] Persona4/[VCB-Studio] Persona4 the Golden ANIMATION [Ma10p_1080p]/CDs/[181219] オリジナル・サウンドトラック (flac)/07. A Sky Full Of Stars.flac 15.7MB
[VCB-Studio] Persona4/[VCB-Studio] Persona4 the Golden ANIMATION [Ma10p_1080p]/CDs/[181219] オリジナル・サウンドトラック (flac)/08. みんなで初詣.flac 4.4MB
[VCB-Studio] Persona4/[VCB-Studio] Persona4 the Golden ANIMATION [Ma10p_1080p]/CDs/[181219] オリジナル・サウンドトラック (flac)/09. 湯けむり旅情大作戦.flac 2.8MB
[VCB-Studio] Persona4/[VCB-Studio] Persona4 the Golden ANIMATION [Ma10p_1080p]/CDs/[181219] オリジナル・サウンドトラック (flac)/10. SNOWFLAKES.flac 20.5MB
[VCB-Studio] Persona4/[VCB-Studio] Persona4 the Golden ANIMATION [Ma10p_1080p]/CDs/[181219] オリジナル・サウンドトラック (flac)/11. 虚ろの森の少女.flac 16.2MB
[VCB-Studio] Persona4/[VCB-Studio] Persona4 the Golden ANIMATION [Ma10p_1080p]/CDs/[181219] オリジナル・サウンドトラック (flac)/12. 記憶.flac 20.7MB
[VCB-Studio] Persona4/[VCB-Studio] Persona4 the Golden ANIMATION [Ma10p_1080p]/CDs/[181219] オリジナル・サウンドトラック (flac)/13. Never More 〜おかえり〜.flac 2.4MB
[VCB-Studio] Persona4/[VCB-Studio] Persona4 the Golden ANIMATION [Ma10p_1080p]/CDs/[181219] オリジナル・サウンドトラック (flac)/14. SNOWFLAKES - powder snow mix -.flac 26.8MB
[VCB-Studio] Persona4/[VCB-Studio] Persona4 the Golden ANIMATION [Ma10p_1080p]/CDs/[181219] オリジナル・サウンドトラック (flac)/15. 真・ミツオ転生.flac 19.6MB
[VCB-Studio] Persona4/[VCB-Studio] Persona4 the Golden ANIMATION [Ma10p_1080p]/CDs/[181219] オリジナル・サウンドトラック (flac)/天使动漫自购转载声明.txt 936Bytes
[VCB-Studio] Persona4/[VCB-Studio] Persona4 the Golden ANIMATION [Ma10p_1080p]/SPs/[VCB-Studio] Persona4 the Golden ANIMATION [Another End Episode:Thank you Mr. Accomplice][Ma10p_1080p][x265_flac].mkv 851.8MB
[VCB-Studio] Persona4/[VCB-Studio] Persona4 the Golden ANIMATION [Ma10p_1080p]/SPs/[VCB-Studio] Persona4 the Golden ANIMATION [Blu-ray & DVD CM][Ma10p_1080p][x265_flac].mkv 313.2MB
[VCB-Studio] Persona4/[VCB-Studio] Persona4 the Golden ANIMATION [Ma10p_1080p]/SPs/[VCB-Studio] Persona4 the Golden ANIMATION [Blu-ray & DVD Vol.1 CM01][Ma10p_1080p][x265_flac].mkv 21.1MB
[VCB-Studio] Persona4/[VCB-Studio] Persona4 the Golden ANIMATION [Ma10p_1080p]/SPs/[VCB-Studio] Persona4 the Golden ANIMATION [Blu-ray & DVD Vol.1 CM02][Ma10p_1080p][x265_flac].mkv 21.3MB
[VCB-Studio] Persona4/[VCB-Studio] Persona4 the Golden ANIMATION [Ma10p_1080p]/SPs/[VCB-Studio] Persona4 the Golden ANIMATION [CM01][Ma10p_1080p][x265_flac].mkv 22MB
[VCB-Studio] Persona4/[VCB-Studio] Persona4 the Golden ANIMATION [Ma10p_1080p]/SPs/[VCB-Studio] Persona4 the Golden ANIMATION [CM02][Ma10p_1080p][x265_flac].mkv 20.7MB
[VCB-Studio] Persona4/[VCB-Studio] Persona4 the Golden ANIMATION [Ma10p_1080p]/SPs/[VCB-Studio] Persona4 the Golden ANIMATION [CM03][Ma10p_1080p][x265_flac].mkv 20.4MB
[VCB-Studio] Persona4/[VCB-Studio] Persona4 the Golden ANIMATION [Ma10p_1080p]/SPs/[VCB-Studio] Persona4 the Golden ANIMATION [CM04][Ma10p_1080p][x265_flac].mkv 19.2MB
[VCB-Studio] Persona4/[VCB-Studio] Persona4 the Golden ANIMATION [Ma10p_1080p]/SPs/[VCB-Studio] Persona4 the Golden ANIMATION [CM05][Ma10p_1080p][x265_flac].mkv 32.7MB
[VCB-Studio] Persona4/[VCB-Studio] Persona4 the Golden ANIMATION [Ma10p_1080p]/SPs/[VCB-Studio] Persona4 the Golden ANIMATION [Mayonaka Live TV][Ma10p_1080p][x265_aac].mkv 1.6GB
[VCB-Studio] Persona4/[VCB-Studio] Persona4 the Golden ANIMATION [Ma10p_1080p]/SPs/[VCB-Studio] Persona4 the Golden ANIMATION [Menu01_01][Ma10p_1080p][x265_flac].mkv 63MB
[VCB-Studio] Persona4/[VCB-Studio] Persona4 the Golden ANIMATION [Ma10p_1080p]/SPs/[VCB-Studio] Persona4 the Golden ANIMATION [Menu01_02][Ma10p_1080p][x265_flac].mkv 40.6MB
[VCB-Studio] Persona4/[VCB-Studio] Persona4 the Golden ANIMATION [Ma10p_1080p]/SPs/[VCB-Studio] Persona4 the Golden ANIMATION [Menu02_01][Ma10p_1080p][x265_flac].mkv 61.5MB
[VCB-Studio] Persona4/[VCB-Studio] Persona4 the Golden ANIMATION [Ma10p_1080p]/SPs/[VCB-Studio] Persona4 the Golden ANIMATION [Menu02_02][Ma10p_1080p][x265_flac].mkv 38.3MB
[VCB-Studio] Persona4/[VCB-Studio] Persona4 the Golden ANIMATION [Ma10p_1080p]/SPs/[VCB-Studio] Persona4 the Golden ANIMATION [Menu03_01][Ma10p_1080p][x265_flac].mkv 61.9MB
[VCB-Studio] Persona4/[VCB-Studio] Persona4 the Golden ANIMATION [Ma10p_1080p]/SPs/[VCB-Studio] Persona4 the Golden ANIMATION [Menu03_02][Ma10p_1080p][x265_flac].mkv 39.1MB
[VCB-Studio] Persona4/[VCB-Studio] Persona4 the Golden ANIMATION [Ma10p_1080p]/SPs/[VCB-Studio] Persona4 the Golden ANIMATION [Menu04_01][Ma10p_1080p][x265_flac].mkv 59.8MB
[VCB-Studio] Persona4/[VCB-Studio] Persona4 the Golden ANIMATION [Ma10p_1080p]/SPs/[VCB-Studio] Persona4 the Golden ANIMATION [Menu04_02][Ma10p_1080p][x265_flac].mkv 36.3MB
[VCB-Studio] Persona4/[VCB-Studio] Persona4 the Golden ANIMATION [Ma10p_1080p]/SPs/[VCB-Studio] Persona4 the Golden ANIMATION [Menu05_01][Ma10p_1080p][x265_flac].mkv 64.8MB
[VCB-Studio] Persona4/[VCB-Studio] Persona4 the Golden ANIMATION [Ma10p_1080p]/SPs/[VCB-Studio] Persona4 the Golden ANIMATION [Menu05_02][Ma10p_1080p][x265_flac].mkv 43.3MB
[VCB-Studio] Persona4/[VCB-Studio] Persona4 the Golden ANIMATION [Ma10p_1080p]/SPs/[VCB-Studio] Persona4 the Golden ANIMATION [Menu06_01][Ma10p_1080p][x265_flac].mkv 59.5MB
[VCB-Studio] Persona4/[VCB-Studio] Persona4 the Golden ANIMATION [Ma10p_1080p]/SPs/[VCB-Studio] Persona4 the Golden ANIMATION [Menu06_02][Ma10p_1080p][x265_flac].mkv 36.5MB
[VCB-Studio] Persona4/[VCB-Studio] Persona4 the Golden ANIMATION [Ma10p_1080p]/SPs/[VCB-Studio] Persona4 the Golden ANIMATION [NCED][Ma10p_1080p][x265_flac].mkv 94.2MB
[VCB-Studio] Persona4/[VCB-Studio] Persona4 the Golden ANIMATION [Ma10p_1080p]/SPs/[VCB-Studio] Persona4 the Golden ANIMATION [NCOP][Ma10p_1080p][x265_flac].mkv 215.8MB
[VCB-Studio] Persona4/[VCB-Studio] Persona4 the Golden ANIMATION [Ma10p_1080p]/SPs/[VCB-Studio] Persona4 the Golden ANIMATION [PV01][Ma10p_1080p][x265_flac].mkv 167.4MB
[VCB-Studio] Persona4/[VCB-Studio] Persona4 the Golden ANIMATION [Ma10p_1080p]/SPs/[VCB-Studio] Persona4 the Golden ANIMATION [PV02][Ma10p_1080p][x265_flac].mkv 116.7MB
[VCB-Studio] Persona4/[VCB-Studio] Persona4 the Golden ANIMATION [Ma10p_1080p]/[VCB-Studio] Persona4 the Golden ANIMATION [01][Ma10p_1080p][x265_flac_aac].mkv 1.3GB
[VCB-Studio] Persona4/[VCB-Studio] Persona4 the Golden ANIMATION [Ma10p_1080p]/[VCB-Studio] Persona4 the Golden ANIMATION [02][Ma10p_1080p][x265_flac_aac].mkv 1.0GB
[VCB-Studio] Persona4/[VCB-Studio] Persona4 the Golden ANIMATION [Ma10p_1080p]/[VCB-Studio] Persona4 the Golden ANIMATION [03][Ma10p_1080p][x265_flac_aac].mkv 1.4GB
[VCB-Studio] Persona4/[VCB-Studio] Persona4 the Golden ANIMATION [Ma10p_1080p]/[VCB-Studio] Persona4 the Golden ANIMATION [04][Ma10p_1080p][x265_flac_aac].mkv 995.5MB
[VCB-Studio] Persona4/[VCB-Studio] Persona4 the Golden ANIMATION [Ma10p_1080p]/[VCB-Studio] Persona4 the Golden ANIMATION [05][Ma10p_1080p][x265_flac_aac].mkv 1.0GB
[VCB-Studio] Persona4/[VCB-Studio] Persona4 the Golden ANIMATION [Ma10p_1080p]/[VCB-Studio] Persona4 the Golden ANIMATION [06][Ma10p_1080p][x265_flac_aac].mkv 961.1MB
[VCB-Studio] Persona4/[VCB-Studio] Persona4 the Golden ANIMATION [Ma10p_1080p]/[VCB-Studio] Persona4 the Golden ANIMATION [07][Ma10p_1080p][x265_flac_aac].mkv 1.1GB
[VCB-Studio] Persona4/[VCB-Studio] Persona4 the Golden ANIMATION [Ma10p_1080p]/[VCB-Studio] Persona4 the Golden ANIMATION [08][Ma10p_1080p][x265_flac_aac].mkv 1.2GB
[VCB-Studio] Persona4/[VCB-Studio] Persona4 the Golden ANIMATION [Ma10p_1080p]/[VCB-Studio] Persona4 the Golden ANIMATION [09][Ma10p_1080p][x265_flac_aac].mkv 1.5GB
[VCB-Studio] Persona4/[VCB-Studio] Persona4 the Golden ANIMATION [Ma10p_1080p]/[VCB-Studio] Persona4 the Golden ANIMATION [10][Ma10p_1080p][x265_flac_aac].mkv 1.3GB
[VCB-Studio] Persona4/[VCB-Studio] Persona4 the Golden ANIMATION [Ma10p_1080p]/[VCB-Studio] Persona4 the Golden ANIMATION [11][Ma10p_1080p][x265_flac_aac].mkv 1.2GB
[VCB-Studio] Persona4/[VCB-Studio] Persona4 the Golden ANIMATION [Ma10p_1080p]/[VCB-Studio] Persona4 the Golden ANIMATION [12][Ma10p_1080p][x265_flac_aac].mkv 1.6GB

Processed in 0.001 second(s), 2 queries